TWELFTH SUNDAY IN ORDINARY TIME
20th June, 2021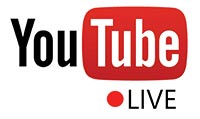 MASS TIMES AND INTENTIONS FOR NEXT WEEK
Sun         11.30am               Sunday Mass
Mon        10.00am                 Weekday Mass
Tues        10.00am                Weekday Mass
Wed        10.00am                 Weekday Mass
Thurs      10.00am                Weekday Mass
Fri           10.00am                Weekday Mass
7.30pm               Barney McQuaid (Month's Mind)
Gerard McGrenaghan
Sat           10.00am                Mary McLaughlin
Marty McGoldrick
James, Alice and Michael McElroy
6.00pm                Vigil Mass
Recently deceased: You are asked to pray for –
Betty (Elizabeth) Kelly, Corbally Road, Fintona
Lough Derg 2021
Lough Derg 2021:  Registration is now open to "Do Lough Derg from wherever you are"  from 3rd to 5th July.     The Prior, Fr La Flynn, will do the Three-Day Pilgrimage on the Island during these days. To offer a live link by webcam in support of those who will choose to do the pilgrimage wherever they are, some of the Lough Derg staff will do the pilgrimage in St. Mary's Church in Pettigo.  To register or for further information please email info@loughderg.org, telephone 0(0353) 71 9861518.  www.loughderg.org
Lourdes2clogher '21:
As we cannot travel on pilgrimage to Lourdes this year, we will again hold a 'virtual pilgrimage' from July 5th-11th. Bringing the spirit of Lourdes to homes, churches and parishes across the diocese. Check out the schedule of Masses, Liturgies and other devotions and tune in over those days on our pilgrimage website www.lourdes2clogher.com and www.clogherdiocese.ie
Regulations for Parish Cemeteries
The following regulations apply to the cemeteries
A plot of 3 graves is to measure 12ft: plot of 2 to measure 8ft: plot of 1 4ft.
Ensure that the natural surface level of the ground is maintained when the grave is filled in.
When maintaining your loved one's plot, please take all artificial wreaths and material home or put it in the bins provided.
All plots are free of charge and remain Church property.
No plots may be reserved in advance: plots will be used in rotation.
No headstone, including base, should be more than 3' high.
All dogs must be kept on a leash.
In any dispute the decision of the Parish Priest will be final.
Once again it has been brought to our attention that some dog owners are failing to keep their dogs on a leash whilst in our cemeteries and church grounds.  We plead with dog owners to clean up any dog foul and ensure that your dog does not interfere with any of the graves, as this is causing unnecessary distress to grieving families.
Adoration of The Blessed Sacrament
Adoration will continue to take place in the main body of the Church to enable those housebound or at home to adore The Blessed Sacrament live over the webcam. This is an opportunity for personal prayer each Wednesday from 10.30am – 6.00pm.
Ushering at Weekend Masses
With the numbers attending weekend Masses steadily increasing and with the approach of the summer months, we need extra stewards to help with ushering on a rota basis at the Saturday evening and Sunday morning Masses. If you would like to help please get in touch with either Tom Gavin(07727 246312) or John Murray(0780 1105575).
Readers for Daily Mass
We are delighted with the response to our request for readers at our daily Masses. If anyone else would like to become involved please give your name to Anne in the office, Gloria McDermott or John Murray.
Walk for Nuala
A 5k Walk in memory of the late Nuala McLaughlin will take place on Sunday 4th July 2021. People can now register for the fundraiser which will take place from 5am – 9pm on the day. To register for the 5k Walk follow the link:https://www.klubfunder.com/Clubs/WALK%20FOR%20NUALA/EventRegistration
Supporting Your Parish by internet banking
For those more familiar with internet banking the alternative way of making a donation to the parish is directly into the parish account,
Account Name CATHOLIC PARISH OF DONACAVEY NO. 1 ACCOUNT 8 High St., Omagh, Co.
Tyrone, BT78 1BH
Account No: 02134-007 Branch Sort Code: 93-80-41 BIC: FTBKGB2B IBAN: GB26 FTBK 9380 4102
GAA Corner
We are delighted to announce that our CLUB LOTTO will be returning soon and there will be an option to do it online. We will keep you updated in the coming weeks.