FIFTH SUNDAY OF EASTER
15th May, 2022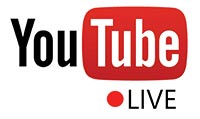 MASS TIMES AND INTENTIONS FOR NEXT WEEK
Sun         11.30am         Sunday Mass
Mon        10.00am           Weekday Mass
Tues        10.00am          Weekday Mass
Wed        10.00am           Weekday Mass
Thurs      10.00am          Michael & Alice McCarney and the deceased McCarney family
Tommy McLaughlin and the deceased McLaughlin family     
Fri           10.00am          Jim & Teresa Carlin, daughter Una and the deceased Carlin family
                  7.30pm          Barney McQuaid (1st Anniversary)
Sat            10.00am         Paul Mullan (1st Anniversary)
6.00pm        Vigil Mass
Recently deceased: You are asked to pray for –
Francy McFarland, Glennan Road, Omagh
Eternal rest grant unto him, O Lord, and let perpetual light shine upon him. May his soul and the souls of all the faithful, departed, through the mercy of God, Rest in peace. Amen
Rosary
The Rosary will be recited each morning before 10.00am Mass at 9.40am, during the month of May. The Rosary is also recited publicly each Friday in St Lawrence's Church at 1.15pm.
Sacrament of Confession
There will be an opportunity to receive the Sacrament of Confession on Saturday in the Oratory directly after the morning Mass, except there is a funeral taking place.
Annual Diocesan Retreat
The Annual Diocesan Retreat for priests of the diocese takes place from Sunday 29th May until Thursday 2nd June 2022 in Dromantine Retreat Centre. As a result, there will be NO Mass in the parish from Monday to Thursday of that week.
Trócaire
Many thanks to those who have returned their Trócaire envelopes or made donations. The amount to date is £6,56l.80 which includes £671.80 raised by St Lawrence's PS. We sincerely thank you for your generosity towards this worthy cause.
A Prayer by Telephone
The Sisters of Mercy "Bethany" 34 Point Road, Dundalk welcome any person who may wish to request prayer, especially during these difficult times. All requests are confidential. Tel:00353429331602  9am – 9pm Daily. One of the sisters will be happy to Listen and Pray with you
St Vincent DePaul
SVP would like to say thank you for recent donations received. They are very much appreciated and needed at present.
Exposition of the Blessed Sacrament
There will be Exposition of The Blessed Sacrament on Wednesday 18th May from 10.30am to 6.00pm.
Gospa Mir Pilgrimages
Medjugorje Saturday 15th October – 22nd October 2022. Dublin – Split – Medjugorje. Price is £660 this includes flights, transfers, half board accommodation, services of local guides. If you're interested, you can contact Niall on 07850879690 for more information or check out our website  www.gospamirpilgrimages.com
Lost
A lady's bracelet was lost last Saturday at the First Communion Mass. If found please contact Anne in the parish office 028 82841244
Supporting Your Parish by internet banking
For those more familiar with internet banking the alternative way of making a donation to the parish is directly into the parish account,
Account Name CATHOLIC PARISH OF DONACAVEY NO. 1 ACCOUNT 8 High St., Omagh, Co.
Tyrone, BT78 1BH Account No: 02134-007 Branch Sort Code: 93-80-41 BIC: FTBKGB2B IBAN: GB26 FTBK 9380 4102
GAA Corner
This week's lotto numbers were 4, 15, 21 and 25. Congratulations to the Jackpot winner. Five people matched 3 numbers and shared £100. The Jackpot is now £1,000.00   The next draw will take place on Thursday 19th May in The Beeches Pastoral Centre. Tickets can be purchased from the usual outlets or online  https://www.klubfunder.com/Clubs/Fintona%20Pearses%20GAC/lotto.
Sunflower Early Years Playgroup
Sunflower Early Years Playgroup are holding an Open Evening for September 2022, by appointment only, on Tuesday 17th May from 6.30pm. We enrol children from age 2 years 10 months. If you would like to take a look around our playgroup you can make an appointment by ringing 07900103939 Between 9.00am – 12.30pm or PM our Facebook page or email sunflowerplaygroup123@gmail.com
Yoga Class
Ladies Yoga, led by a fully qualified Yoga teacher, every Wednesday in Fintona Golf Club at 6.30pm.