PENTECOST SUNDAY
28th May, 2023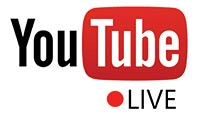 MASS TIMES AND INTENTIONS FOR NEXT WEEK
Sun        11.30am          Sunday Mass
Mon       10.00am            No Mass
Tues       10.00am           Private Intention
Wed       10.00am            Private Intention
Thurs     10.00am           Private Intention
Fri          10.00am           No Mass
                7.30pm            Mary Loane
Packie Loane and the deceased members of the Loane & Geraghty family
James & Susan Garrity
Sat         10.00am            Private Intention
                6.00pm           Vigil Mass
Recently deceased: You are asked to pray for –
Cornelius (Con) Kelly, Dundiven Road, Fintona
Eternal rest grant unto him, O Lord, and let perpetual light shine upon him. May his soul and the souls of all the faithful, departed, through the mercy of God, Rest in peace. Amen
Baptism
We welcome into our Christian faith community the following who were baptised recently.
Isabella McMoran                   
Fabian Donnelly
Diocesan Meeting
IMPORTANT!!!! Tuesday, 6 June, has been set aside in our diocese as a day of prayer, reflection, and discussion for all the clergy as they come together, with the help of a number of lay people, to discern the future direction of pastoral ministry in this area over the next 10 years. Please note that there will be no Masses (including Funerals) across the Diocese of Clogher on Tuesday 6 June 2023. This day is just one part of the early stages of discerning a Pastoral Plan for the whole diocese and how parishes and pastoral areas will work in the future.
Ministers of The Eucharist for June 2023
6.00pm: Alicia McGoldrick, Aislinn Connolly and Kate Daly. 11.30am: Anne Conlin, Aisling Mullan and Shane Mullan
Readers for June 2023
6.00pm: Caitlin McDermott 11.30am: Mary Louise McGuinness. The readings for June can be collected in the sacristy from Mary or from Anne in the parish office.
Altar Society for June 2023
The Altar Society for February is Team H: Elaine Cassidy, Mary Campbell, Caroline Gallen, Rosemary McCarney and Denise McCusker
Adoration of The Blessed Sacrament
There will be Adoration of The Blessed Sacrament on Wednesday 31st May, in the Oratory from 10.30am – 6.00pm.
Salt & Light
Salt & Light invite you to join them for their next Young Adults' Prayer Night on Thursday 1st June, at 8.00pm, in Christ the King Church, Strathroy, Omagh. It will be a chance for teenagers and young adults to come together, pray and grow their understanding of the Catholic Faith. All welcome!
Lough Derg 2023 Pilgrimage Season
Three Day Pilgrimages: commence 1st June until 15th August (last day to begin is 13th August) Cost: €80. Booking Advised. www.loughderg.org / [email protected] / 00353 7198 61518
SunflowerEarly Years Playgroup
SunflowerEarly Years Playgroup are holding a Coffee morning/ fun day on Saturday 3rd of June from 10am-2pm to help celebrate 40years of the playgroup, there will be fun on the day with corbally fun farm, party bees and face painting.  Photos displayed from over the past 40 years and performances from: St Lawrence's PS, Fintona, CCE, Denamona PS, McClintock PS Highland dancers, McQuaid /McFarland school of Irish Dancing and Fintona Parish/Community Choir.
GAA Corner
This week's lotto numbers were 14, 16, 24 and 29. There was no Jackpot winner. Two people matched 3 numbers shared £100.00 The Jackpot for next week is £1,500.00.  The next draw will take place on Thursday 1st June, in The Beeches Pastoral Centre. Tickets can be purchased from the usual outlets or online  https://www.klubfunder.com/Clubs/Fintona%20Pearses%20GAC/lotto The 12 week lotto ticket sellers are asked to have their yellow tickets returned by Monday 29th May, to enable the tickets to be updated for the next draw commencing on Thursday 1st June.
Supporting Your Parish by internet banking
Account Name CATHOLIC PARISH OF DONACAVEY NO. 1 ACCOUNT 8 High St., Omagh, Co.
Tyrone, BT78 1BH Account No: 02134-007 Branch Sort Code: 93-80-41 BIC: FTBKGB2B IBAN: GB26 FTBK 9380 4
Parish Office
The parish office will be closed on Monday 29th May.
New Parish email address
Please note the new parish email as follows: [email protected]