THE NINETEENTH SUNDAY IN ORDINARY TIME
7th August, 2022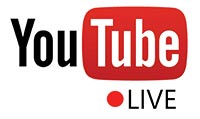 MASS TIMES AND INTENTIONS FOR NEXT WEEK
Sun         11.30am         Sunday Mass
Mon        10.00am        Weekday Mass
Tues        10.00am        Weekday Mass
Wed        10.00am        Weekday Mass
Thurs      10.00am         Weekday Mass
Fri           10.00am         Anne Mullan, Omagh
                  7.30pm         Peter Donnelly (Month's Mind)
Sat            10.00am        Maureen Connolly (Month's Mind)
6.00pm       Vigil Mass
Marriage
We congratulate Ceallach Reid, Carryglass, Fintona and Patrick Kelly, Portglenone, who were married in St Lawrence's Church on Tuesday 12th July. May the Lord grant them the blessing of a long life, good health and happiness.
Baptism
We welcome into our Christian faith community the following who were baptized recently:
                             Leo King                     Peadar Guest
                             Indira Weily               Aisling Rambiritch
Exposition of the Blessed Sacrament
There will be Exposition of The Blessed Sacrament on Wednesday 10th  August from 10.30am – 6.00pm.
Blessing of the Graves
The annual blessing of the graves in both cemeteries, St Lawrence's and St Peter's & Paul's will take place on Sunday 28th August, at 2. 00pm.When preparing to clean up your grave please use the bins provided and the specified dumping areas that are available in the graveyard.
Diocesan Pilgrimage to Knock,
Diocesan Pilgrimage to Knock, led by Bishop Larry Duffy, Bishop of Clogher, on Wednesday 24 August 2022. The day will conclude around 5pm. For any local arrangements contact the members of the Clogher Lourdes Pilgrimage Committee.
Order of Malta, Pilgrimage to Knock – Sunday 28th August 2022
A bus will Leave Omagh Bus Depot at 8.30am. Stopping for morning tea, coffee and scones on the way to Knock. Stopping for 1 hour on way home in Bundoran. Price – £10 pp includes morning tea. Please ring Laura – 07928456806To confirm booking
Fintona CCÉ
We would like to wish Fintona CCÉ every success as they take part in Fleadh Cheoil na hÉireann in Mullingar this weekend.
GAA Corner
Fintona Pearses are hosting a Big Steak Barbecue in Fintona Golf Club on Saturday 20th August 2022. Thanks to Lagan Energy Engineering Ltd for their generous sponsorship. Food served 7.30pm – 9.30pm. Kids eat free (burger or hotdog). Music by Duke Box Disco. Tickets cost £15.00 and are available from any committee member. This week's lotto numbers were 2, 3, 20 and 28. There was no Jackpot winner. One person matched 3 numbers and won £100. The Jackpot is now £1,200.00 The next Jackpot draw will take place on Thursday 11th August, in the Beeches Pastoral Centre. Tickets can be purchased from the usual outlets or online  https://www.klubfunder.com/Clubs/Fintona%20Pearses%20GAC/lotto.
Fintona Pearses annual Run
Run Fintona Run 5k date is set for Saturday 3rd September at 11am. Couch to 5k training programme continues every Wednesday at 7pm Everyone is very welcome. If there is any business or families who would like to help with additional sponsorship, please get in contact with Clodagh 07845046250
Supporting Your Parish by internet banking
For those more familiar with internet banking the alternative way of making a donation to the parish is directly into the parish account,
Account Name CATHOLIC PARISH OF DONACAVEY NO. 1 ACCOUNT 8 High St., Omagh, Co.
Tyrone, BT78 1BH Account No: 02134-007 Branch Sort Code: 93-80-41 BIC: FTBKGB2B IBAN: GB26 FTBK 9380 4102
Irish Summer Scheme Secondary School Students
Fermanagh and Omagh District Council will run an Irish Summer Scheme for secondary school students in Strule Arts Centre, Omagh on Monday 22nd and Tuesday 23rd August 2022 from 10am-4pm. This will be a free event. For further information please contact gaeilge@fermanaghomagh.com or phone 028 82247831. Places may be booked online at www.struleartscentre.com.
SUSE:
Do you need help to get into work or education? Are you unemployed or have been made redundant? If so, SUSE+ may be able to help you, we are currently offering help and support with completing Courses, Job Searches, CV Building, Interview Preparation. Mentors work 1 to 1 with participants to help secure a job in the local area. A variety of Level 1 courses are running, courses include Foundation Skills in Working with Children, Personal Success & Wellbeing, Approaches to Wellbeing, Community Development, Customer Service, Money Management, Business Administration and Digital Skills, you can also access Essential Skills courses. *Eligibility criteria apply. For more information contact Tracy – tracy.sharkey@swc.ac.uk – 074 3653 3475