FIFTH SUNDAY OF EASTER
2nd May, 2021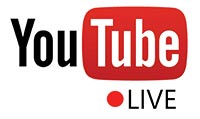 MASS TIMES AND INTENTIONS FOR NEXT WEEK
Sun         11.30am               Sunday Mass
Mon        10.00am                 No Mass
Tues        10.00am                Mass of the day
Wed        10.00am                 Michelle McGirr
Thurs      10.00am                Mass of the day
Fri           10.00am                Lavina Moore (Month's Mind)
7.30pm               Brigid Baird (1st Anniversary)
Tony Hagan
Sat            10.00am              Rita Murray (1st Anniversary)
6.00pm              Vigil Mass
The Pope's Intentions for May
Universal intention – The world of finance:  Let us pray that those in charge of finance will work with governments to regulate the financial sphere and protect citizens from its dangers.
May is The Month of Mary
During May we remember Mary, Mother of Jesus in a special way. We encourage you all to create your own May Altar at home with a statue of Mary, a candle and some flowers. We can add some Rosary Beads to remind us to pray to Mary for help and to pray together for any special intentions. The Rosary will be recited each morning in St Lawrence's Church, during May,  commencing  at 9.40am before the 10.00am Mass.
Baptisms
We welcome into our Christian faith community the following who received the Sacrament of Baptism:
Carson Galbraith, Eva Campbell, Daniel Ledley, Aoibheann Kelly and Ada McBrien
Altar Society for May
The Altar Society for May is Team E Sheila McCann, Mary McBrien, Ailish McPhillips, Mary Corrigan, Margaret Reid, John Murray and Agnes Murray.
Trócaire
Many thanks to those who have returned their Trócaire envelopes or made donations. The amount received to date is £8030.40.  Remember any donation made before the 16th May will be doubled by the British Government. We will be sending of our donations on the week ending 14th May 2021.
Diamond Jubilee
Fr. Dawson will celebrate his Diamond Jubilee and 85th birthday in June. Due to the current restrictions his parishioners in Brookborough/Fivemiletown are not sure how they will celebrate these milestones. Inquiries are being made to see if anyone in our parish has photographs or interesting stories of Fr. Dawson's time in Fintona and if they would like to share them. Any information can be emailed to aghaveaaughentaine@gmail.com or telephone 028 89521291.
Adoration of The Blessed Sacrament
Eucharistic Adoration is a time to help foster a spirit of prayer, worship and adoration of Jesus truly present on the altar.  Adoration will continue to take place in the main body of the Church to enable those housebound or at home to adore The Blessed Sacrament live over the webcam. This is an opportunity for personal prayer each Wednesday from 10.30am – 6.00pm.
Prayer for Vocation
Lord Jesus Christ, gentle shepherd, you know your sheep, and you know how to reach their hearts.
Give to the people of our parish hearts that are open to the call of the Holy Spirit. Speak to the hearts of the (young) men of our diocese that they may hear your call to follow you and serve your people as priests. Awaken in them the courage to answer:"Here I am, Lord, Send me."
Act of Spiritual Communion
My Jesus, I believe that you are present in the Most Blessed Sacrament.  I love you above all things, and I desire to receive you into my soul. Since I cannot at this moment receive you sacramentally, come at least spiritually into my heart. I embrace you as if you were already there and unite myself wholly to you. Never permit me to be separated from you. Amen
Walk with Fermanagh & Omagh Council Community Co Ordinater
Walk with FermanaghOmagh Council community co ordinater Aimee Davis. Starting 4th May at 10.00 am from Fintona Ecclesville carpark. Places are limited.  Please contact Aimee Davis on 07756437563 to book a place.
Supporting Your Parish by internet banking
For those more familiar with internet banking the alternative way of making a donation to the parish is directly into the parish account,
Account Name CATHOLIC PARISH OF DONACAVEY NO. 1 ACCOUNT 8 High St., Omagh, Co.
Tyrone, BT78 1BH
Account No: 02134-007  Branch Sort Code: 93-80-41 BIC: FTBKGB2B  IBAN: GB26 FTBK 9380 4102
GAA Corner
Club Membership – please make arrangements if you have not done so to register for the year. Klubfunder.https://www.klubfunder.com/…/fintona…/Membership… or contact Kieran / Mike. We are delighted to have resumed training at the pitch. The U16 Grade 2 League Final Fintona v Kildress has been set for Sunday 9th  May at 4pm in Errigal Ciaran. We wish them well.  Remember the facilities with the exception of the walking track are closed at the grounds