FIRST SUNDAY OF LENT –

21

st

February, 2021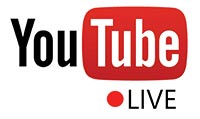 MASS TIMES AND INTENTIONS FOR NEXT WEEK
Sun         11.30am                Sunday Mass
Mon        10.00am           The Chair of St Peter, Apostle
Tues        10.00am           Mass of the day
Wed        10.00am           Eugene Donnelly (1st Anniversary)                                      
Thurs      10.00am             Mass of the day
Fri           10.00am                Tommy & Sarah McCarroll
                  7.00pm               Stations of the Cross
                  7.30pm               Mass for Lent
Sat           10.00am               William Sharkey (1st Anniversary)
                                      ALL MASSES CURRENTLY ONLINE VIA WEBCAM
                                MAY THEY ALL ENJOY LIGHT, HAPPINESS AND PEACE
Adoration of The Blessed Sacrament
There will be an opportunity for personal prayer and Adoration before the Blessed Sacrament in the Oratory each Wednesday from 10.30am – 6.00pm for the season of Lent.
   "Oh come, let us worship and bow down; let us kneel before the Lord, our maker!" Psalm 95:6"
Walking with Christ this Lent
During the season of Lent, The Stations of the Cross will be recited online each Friday evening at 7.00pm followed by Mass at 7.30pm.  We are encouraged to make a special effort together on our Lenten journey. 
'Walk With Me' Lenten Prayer Book
We have a limited number of the 'Walk with Me' booklets which take us on a daily journey of reflection and prayer from Ash Wednesday right through until Easter Sunday. The booklets are available at the back of the Church priced at £1 each. The money can be dropped into the box for the weekly envelope donations.
The Pope's Intentions for February
Universal intention – Violence against women; We pray for women who are victims of violence, that they may be protected by society and have their sufferings considered and heeded.
Online Talks for Lent
Online Talks For Lent – Awaken Our Baptismal Calling in Parish Ministry is the theme of three online talks organised for Lent as part of the Clogher Diocese in Dialogue process. These will be held on www.clogherdiocese.ie and on the Diocese of Clogher Facebook page on Wednesday 24 February (Speaker: Julie Kavanagh on Baptism and Parish Ministry); Wednesday 10 March (Speaker: Fr Gareth Byrne on Re-Imagining the Link between Schools and Parish today) and on Wednesday 24 March (Various speakers who are involved in parish ministry across the Diocese of Clogher). All at 7.30pm and lasting for about 40 minutes. No booking necessary.
Catholic Engaged Encounter: A 'Zoom' online Marriage Preparation course is planned for 27-28 March 2021. This 2-day course is a positive way of preparing for Marriage where you will discover how you can enrich your future relationship. For information or booking email: marriageencounter.ie or call 028276 38512.
Act of Spiritual Communion
My Jesus, I believe that you are present in the Most Blessed Sacrament.  I love you above all things, and I desire to receive you into my soul. Since I cannot at this moment receive you sacramentally, come at least spiritually into my heart. I embrace you as if you were already there and unite myself wholly to you. Never permit me to be separated from you. Amen
Prayer to St. Joseph
Joseph, whose power makes the impossible possible, come to my aid in these times of anguish and difficulty. Take under your protection the serious and troubling situations that I commend to you, that they may have a happy outcome. My beloved father, all my trust is in you. Let it not be said that I invoked you in vain, and since you can do everything with Jesus and Mary, show me that your goodness is as great as your power. Amen.
GAA Corner
The Club is delighted to announce the position of Honorary President has been awarded to two of its most longstanding members and volunteers, namely Eamon Mc Cann and Eugene Mc Carroll. Both men have volunteered their own time selflessly over the years to the Fintona Pearses club and community and we congratulate them on their new position. We launched our Fintona Family Walk Challenge and encourage you all to take part! Sunday 14th February – 28th February It's for all members of the family including the grandparents and you can enter more than 1 team per family. A member of your team needs to tally up daily miles all 4 members walk and let Lisa know each day over this 2-week period. Free Club Membership for 2021 for the winning team. Club membership is now due. Please support your club and consider Family Membership. You can do this online via our klubfunder or contact Kieran Mc Gillion / Mike Kelly. 
Supporting Your Parish
We would like to thank you for your continued support of your priests and parish through your weekly
contributions.  For those more familiar with internet banking the alternative way of making a donation to the parish is directly into the parish account,
Account Name CATHOLIC PARISH OF DONACAVEY NO. 1 ACCOUNT
8 High St., Omagh, Co. Tyrone, BT78 1BH
Account No: 02134-007   Branch Sort Code: 93-80-41
BIC: FTBKGB2B   IBAN: GB26 FTBK 9380 4102 134